What can I do to help ensure the success of my Microsoft Dynamics investment?
How can I be confident my implementation will help achieve my business goals and stay within budget?
By addressing these five critical success factors, an enterprise can successfully mitigate some of the risks associated with ERP implementations.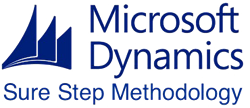 Lack of executive management commitment.
Insufficient or inadequate budgeting.
Inadequate change management and training.
Inexperienced project management and project team.
Extensive modifications.
We believe that, using a proven methodology, we can enable you to address these five critical success factors.
Executive Commitment
Executive and middle management support is essential to a ERP or CRM project success. Our way is to keep management involved and ensure you meet your business goals.
Smart Budgeting
Many companies attempt to cut project costs by minimizing focus on change management, project management, and training. Instead of eliminating these integral peaces, we support you to steamline budget.
Change Management
During an implementation, it's essential to inform end users of upcoming changes, being sure to explain the benefits and offer training. We consult you to limit frustration and drive user adoption.
Project Management
A successful project starts and ends with a successful team. At the heart of every successful team is an experienced project manager. We advise you to ensure a successful project.
Manageable Modifications
Leverage solution capabilities and lean to manage modifications to fit your budget and business needs. Take key learning from our cooperation into account before you decide to build extensive modifications into your solution.