1. Application Area
Quality Management module is intended to support quality management for incoming and outgoing products and production sub-products with the possibility to create statistical charts for visual analysis.
Business workflow, implemented via Quality Management module with statistical approach, is integrated as extended part of Quarantine Management functionality of Dynamics AX (Axapta) that provides the tools for quality analysis of incoming / outgoing products.
2. Known Solutions for Dynamics AX (Axapta)
2.1. Total Quality Control Management by ERPSolutions.biz
Short review of the features from the presentation:
 Sample lot Testing with Acceptable Quality Levels (AQL).
 Set inventory specific items to mandatory inspection.
 Set inspections for internally manufactured and/or purchased items.
 Create corrective actions for vendor items, customer items, and internal production items.
 Create and manage non-conforming materials and items.
 Create and maintain non-conformance reports.
 Create quality verifications for in process manufacturing.
 Create stepped procedures for work centers, machines, or processes.
 Association between corrective actions and non-conformance.
 Complete equipment calibration and certified reporting processing.
 Create and maintain quality and ISO Standard Order Procedures (SOP).
 Email notifications.
 Standard reports included.
 Ad-hoc reporting capabilities.
 Fully integrated and built for Microsoft Dynamics AX (Axapta).
 Integration to other Dynamics AX (Axapta) Series.
2.2. Dynamics AX (Axapta) Quality Management by Lean Projects AG
Short review of the features from the presentation:
 Tracks all external and internal quality incidents like customer complaints, internal errors, corrective action requests.
 Documents quality incidents during the whole life cycle of the incident.
 Incidents may easily be created from sales orders, purchase orders and production orders.
 Overview screens allow filtering of incidents by numerous criteria. 
Integration with Dynamics AX (Axapta) Business Process Management functionality.
 Extendable reporting to communicate past due incidents and failure cost by definable dimension.
3. General Demands and Features
Provide full cycle of quality controlling of incoming/outgoing batches of items (placed under quarantine using standard Dynamics AX (Axapta) Quarantine Management functionality).
Classification/Qualification of Vendors per item depending on quality analysis results (statistics) of items purchased from them with possibility to warn or block purchasing of items from vendors with bad qualification.
Possibility to post consumption of items taken as samples for quality controlling (can be used for high-cost materials/products) and return actions to Vendors.
Printout of labels for controlled samples depending on quality controlling stage.
Printout of Analysis Certificate for controlled batches, which can be sent to Vendor or used internally.
Creation of Quality Control Charts based on results of numeric (Variable control charts) and alpha (Attributes control charts) tests (per Item and maybe Vendor or Customer).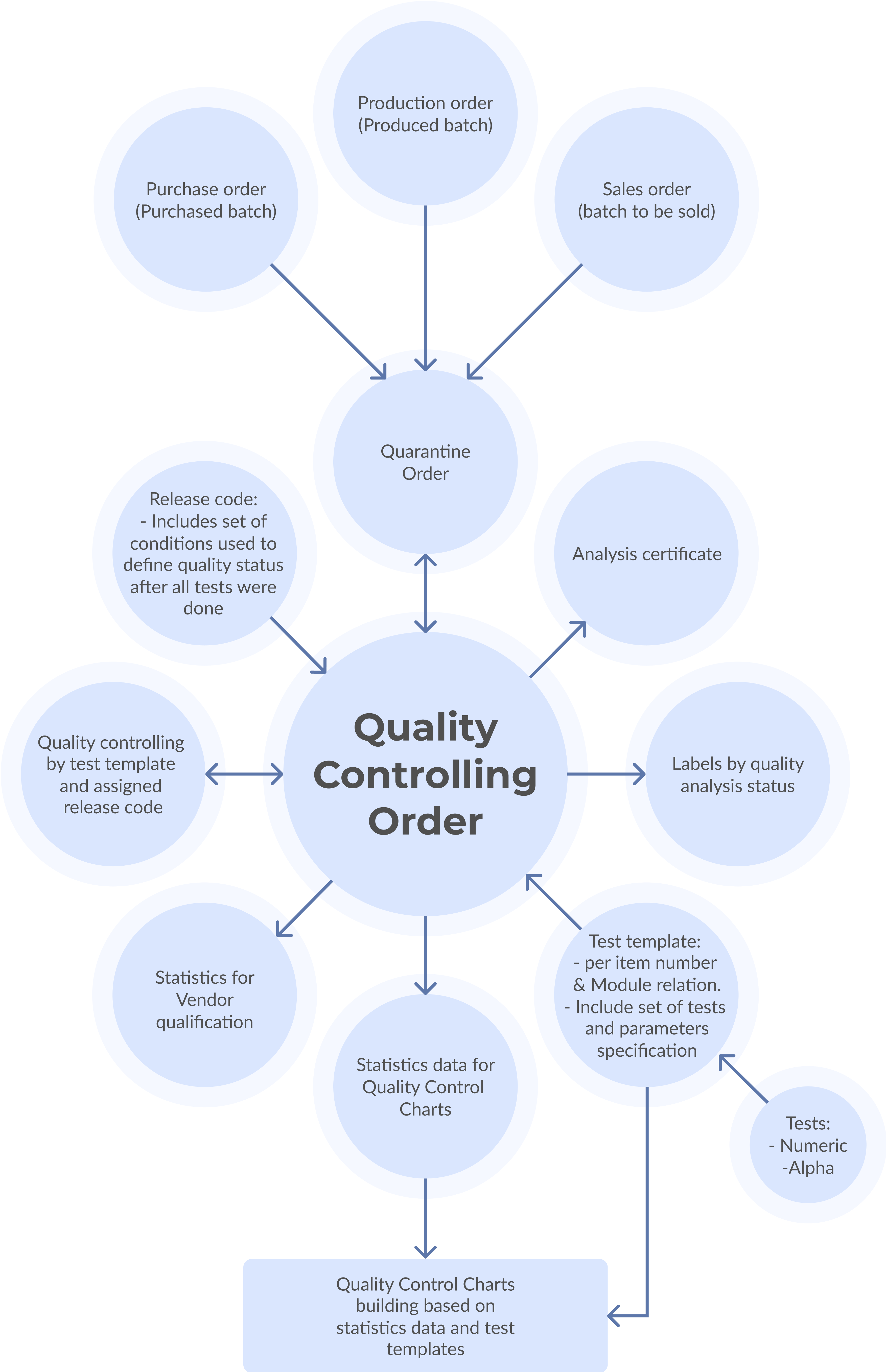 5. Conclusion
Usage of Quality management (QM) solution gains the following advantages for an enterprise:
QM allows systematizing of information about quality control procedures used in the company.
Integration of QM into Dynamics AX (Axapta) allows tracing of measured items in further production.
Algorithms of statistical quality control built into the QM module provide mathematical methods of predicting the forthcoming defective goods.
Vendor qualification as a part of the QM module provides a possibility to automate purchasing of items from vendors depending on quality control procedures.